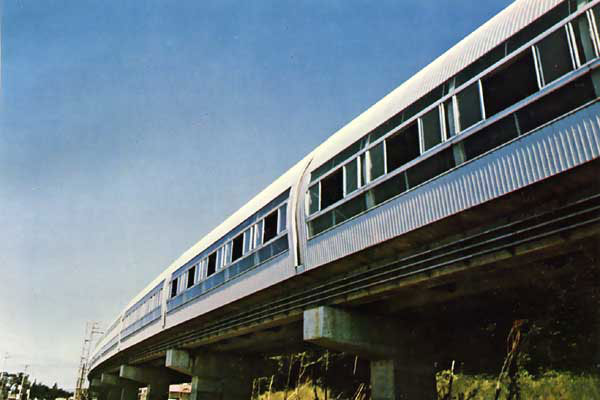 Structure name
Subway Viaduct
Structure type
(representative construction) ①PC 1-span contact bearing girder bridge、
                     ②PC 5-span continuous box girder bridge、③RC 5-span continuous girder bridge
Structural factors
Length of bridge 4.675km(Viaduct all extension)
Span length ①5@21.0m、②5@25.0m、③5@8.0m
Client
Span length
Designer
Docon Co.,Ltd.
Contractor
Taisei Co.・Tokyu Construstion・DPS Bridge Works Co.,Ltd
P.S. Mitsubishi Construction Co.,Ltd・Oriental Shiraishi Co・Nippon High strength Concrete Co.,Ltd
Location

between Hiragishi and Makomanai,Sapporo city

Route name
Namboku Line,Sapporo Municipal Subway
Completion date
1971
Overview

The Sapporo railway Namboku line was constructed for the eleventh Winter Olympics, which were held in Sapporo in 1972, to solve traffic congestion in the snowy season. The subway runs on an elevated line between Hiragishi and Makomanai, with the structural type as follows.

The superstructure is a concrete structure, where the normal section is a continuous PC girder, and the section with a curve radius less than 80 meters is cast-in-place PC continuous girder. The section with a height less than 3 meters has a standard span length of 8 meters and uses a continuous RC girder structure.
All elevated parts include a cover structure to shelter the train and make it unnecessary to carry out snow removal countermeasures in the winter season

.