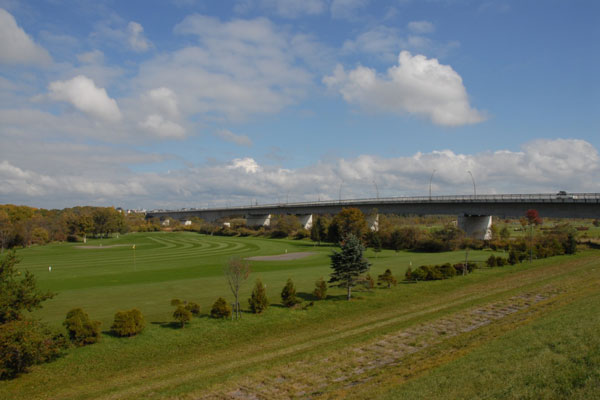 Structure name
Suzuran-ohashi Bridge
Structure type
①PC 4-span continuous box girder bridge
②PC 4-span continuous box girder bridge
Structural factors
Length of bridge 722.0m
Span length  ①96.05+2@150.0+96.05m、②4@56.6m
Client
Obihiro Deparement of Public Works Management, Tokachi General Subprefectural Bureau,Hokkaido Government
Designer
Hokkaido dobokusekkei Co.,Ltd
Contractor
①Sumitomo Mitsui Construction Co., Ltd.
②Joint-venture group DPS Bridge Works Co.,Ltd ・ Nippon High strength Concrete Co.,Ltd・ORIENTAL SHIRAISHI Co.,Ltd
Location

Obihiro~Otofuke

Route name
Urban road authorized in city plan 3・4・50 suzurann Street
Completion date
2009
Overview

This bridge crosses the Tokachi River with a main span of 150 meters to accommodate for the complex flow of the low-water channel and other river planning considerations. As the Tokachi area is an earthquake zone and the main girder is heavy, this bridge adopted a horizontal rubber bearing, joined above and below, to distribute the earthquake force to each pier structure. The force distribution shoes are the world's largest, at 5000 tons. This bridge has a plaza with a view of the Hidaka mountain range and Obihiro city, and a balcony protruding to the surface of the river, so that the bridge is comfortable and friendly for citizens.