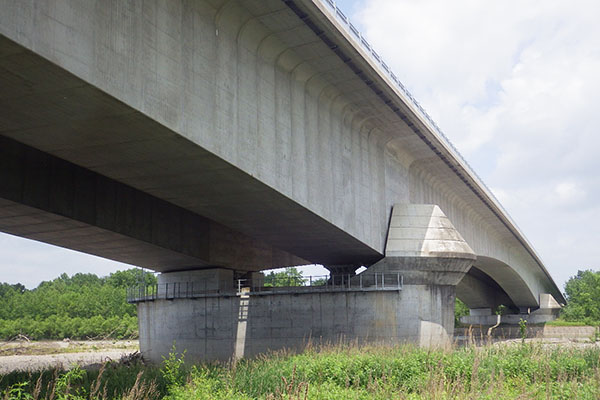 Structure name
Heigen-ohashi Bridge
Structure type
①PC 3-span continuous box girder bridge
②PC 1-span box girder bridge
③PC 3-span continuous box girder bridge
④PC 2-span continuous box girder bridge
Structural factors
Length of bridge 755.00m
Span length ①105.0+170.0+105.0m、②60.45m
   ③3@61.5m、④2@61.5m
Client
Obihiro Development and Consutruction Dept.,Hokkaido Regional Development Bureau
Designer
Docon Co.,Ltd.
Contractor
①②Sumitomo Mitsui Construction Co.,Ltd、
③④Joint-venture group Oriental Shiraishi Co・IHI Construction Service Co.,Ltd
Location

Obihiro City

Route name
Number 241 of national highway
Completion date
1990
Overview

This bridge is a long PC bridge constructed across the Tokachi River, the main span of which is the longest in Hokkaido (170 meters). Construction was carried out carefully considering the potential for crack formation due to heat of hydration and the severe exposure environment, which may sometimes reach below -30C, and the earthquake loading, for which earthquake response analysis was performed.

In addition, this bridge is popular as a viewpoint overlooking the magnificent Hidaka mountain range and the Tokachi Plain.