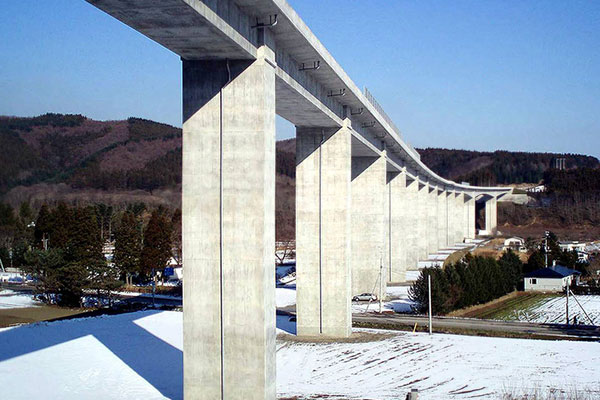 Structure name
Moheji Elevated Bridge
Structure type
①PC 3-span continuous rigid frame box girder bridge
②PC 11-span continuous rigid frame box girder bridge
Structural factors
Length of bridge 739.0m
Span length ①52.0+96.0+53.8m   ②44.5+5@48.5+2@51.5+2@48.5+43.2m
Client
Hakodate Development and Consutruction Dept.,Hokkaido Regional Development Bureau
Designer
Docon Co.,Ltd.
Contractor
Joint-venture group Taisei Co・P.S. Mitsubishi Co・Nippon High strength Concrete Co.,Ltd
Location

Hokuto city

Route name
Arterial high-standard highway HAKODATE-ESASHI EXPWY
Completion date
2006
Overview

This bridge is a long, elevated bridge (length 739.0m, height 30m) that crosses the Moheji River and the prefectural highway of Kamiisho-assabu line. This bridge features construction that used a span-by-span method with precast segments, the first time such a method has been applied in Hokkaido. The integrated rigid frame structure exceeds 500m in length, and the pier cross sections may be affected by creep, dry contraction, prestress and temperature changes. To reduce this influence, various new methods were adopted in the design and construction.

Although this bridge is located in the southern part of Hokkaido, the temperatures during construction still dropped below zero. To realize high quality and accurate segment production, a short-line match casting method was utilized, along with compact, high-efficiency curing equipment.