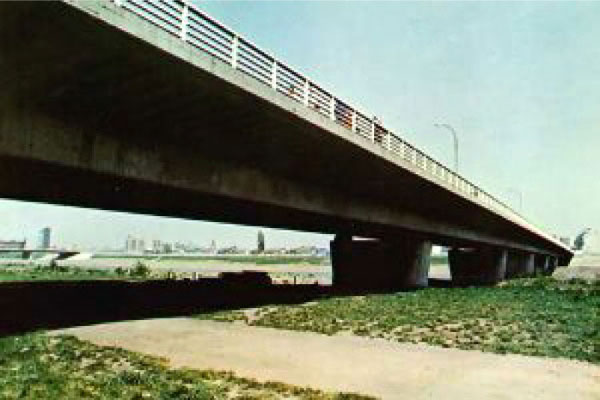 Structure name
Minami-ohashi Bridge
Structure type
PC 3-span continuous box girder bridge
Structural factors
Length of bridge 283.8m、
Span length  2×3@45.2m
Client
Sapporo city
Contractor
Taisei Co.
Location

Sapporo city

Route name
1.3.9 Minami 9-jo toori
Completion date
1963
Overview

 The features of this bridge include applying the Leonhardt method for prestressing in the principal direction, adopting the fan anchorage method of anchoring so that the strands are dispersed in a fan shape at the end of the girder and fixed to the concrete. This bridge was the first application of the large fan anchorage method (2800t×2) in Japan. The Leoba method was adopted for the transverse prestressing. Part of the deck slab overhang has a rib structure with a length of 4.4 meters. In consideration of the landscape, the side slope of the pier structure is the same as the slope of the web in the superstructure.