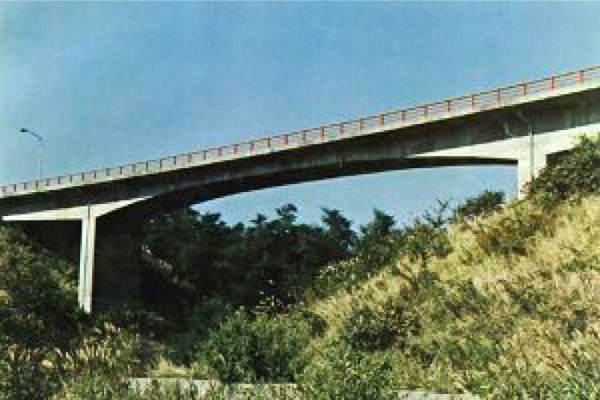 Structure name
Kamihimekawa Bridge
Structure type
PRC 3-span continuous rigid frame box girder bridge
Structural factors
Length of bridge 80.0m
Span length 15.9+48.0+15.9m
Client
Hakodate Development and Consutruction Dept.,Hokkaido Regional Development Bureau
Designer
Hokkaido Regional Development Bureau、 Hokkaido Univ、Docon Co.,Ltd.
Contractor
Sumitomo Mitsui Construction Co.,Ltd
Location

Mori town

Route name
Number 5 of national highway.
Completion date
1966
Overview

This bridge is a rigid-frame bridge that was the first in the world to use the cantilever prestressed reinforced concrete (PRC) method. The amount of prestress was determined such that the safety degree of cracks should be 1.1 at the time of construction and after joining of the rigid frame, which was a breakthrough in the history of RC structures. Dr. Hideo Yokomichi of Hokkaido University devised this method, the characteristic of which are:

(1) To make up for the shortcomings of RC structures, high strength reinforcement was effectively used along with the introduction of a small amount of prestressing to realize the long-span bridge that assured crack safety. In addition, (2) φ32 reinforcement, the maximum diameter for main reinforcement, was used along with general use of SDC40, (3) FY couplers were used on the joints of main reinforcement, (4) the variable cross section was considered in the calculation of torsion in the box girder, and (5) plastic design were adopted in parts of the RC structure. Construction also featured adoption of cantilever erection by FY coupler.