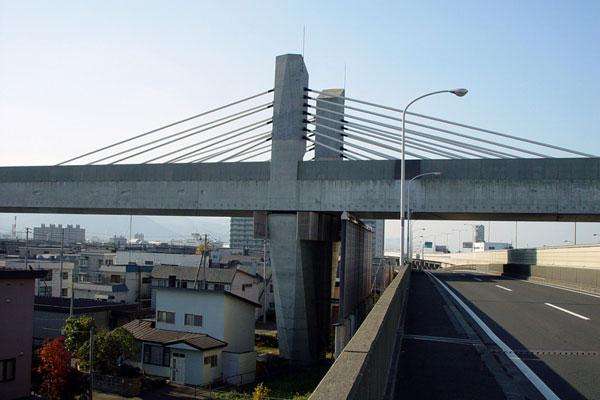 Structure name
Shinkawa Overpass
Structure type
Continuous two-span extra-dosed PC girder bridge
Structural factors
Bridge length 111.0m
Span length 51.375+58.375m
Client
Hokkaido Railway co.
Designer
Japan Transportion consultants co.,Ltd
Contractor
Taisei Co.
Location

Sapporo

Route name
JR Sassyo Line
Completion date
2009
Overview

This bridge crosses over National Highway No. 5 and the expressway. In this bridge, 75% of all vertical stress is concentrated at the piers in the center of the structure, so lead rubber bearing (LRB) was used to disperse horizontal force at each pier when an earthquake occurs. As a result, the width in the axial direction was set 2.5 meters, 3.0 meters, and 2.5 meters at each of the piers to achieve good balance. During the construction period, as a result of the extrusion method the tension was placed in the cables one after another, resulting in transformations in the bridge stress, so the design behavior was compared with the actual behavior, and various measurements were taken to assure the actual construction conditions.

This bridge was awarded the 1999 Japan Society of Civil Engineering Hokkaido Branch Technology Award, and the 1999 Japan Prestressed Concrete Institute Award.