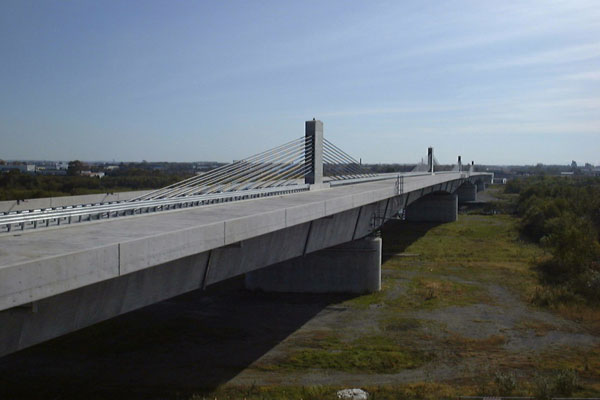 Structure name
Shikari-ohashi Bridge
Structure type
PC 5-span continuous extradosed bridge
Structural factors
Length of bridge 610.0m
Span length 94.0+3@140.0+94.0m
Client
Obihiro Development and Consutruction Dept.,Hokkaido Regional Development Bureau
Designer
Docon Co.,Ltd.
Contractor
Joint-venture group Kajima Co.・Oriental Shiraishi Co.・P.S. Mitsubishi Construction Co.,Ltd
Location

Memuro town

Route name
Arterial high-standard highway OBIHIRO-HIROO EXPWY
Completion date
2001
Overview

This bridge is the first in Hokkaido to feature a large-eccentricity exterior cable system, with a PC 5-span continuous box girder (extradosed), and the sides of the structure hanging from the cables in the median strip. A large concentric continuous outside cable was adopted for the first time in three of the ten large eccentric cables. The large eccentricity exterior cable was arranged to achieve the positive bending moment in the effective span and the negative bending moment at the fulcrum by arrangement of the exterior cable through the floor slab and fixture in the adjacent main tower. The safety of the bridge against fretting fatigue was confirmed by model experiment and fretting tests. In addition, for the first time, a reaction force distributed rubber bearing was used in a large-eccentricity exterior cable system.

This bridge was awarded the 2000 Tanaka Prize (products category) of the Japan Society of Civil Engineers.