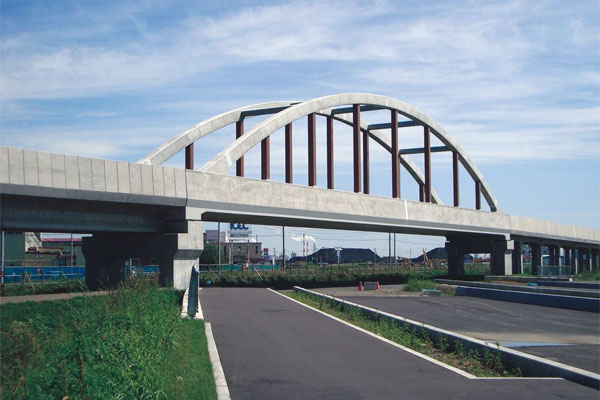 Structure name
Hoshigaura-Kaigandori Bridge
Structure type
PC Langer bridge with through girder
Structural factors
Length of bridge 66.45m
Span length 65.00m
Client
Hokkaido Railway Co.,LTD.
Designer
Japan transportaition Consultants,Inc.
Contractor
Joint-venture group Tekken Co.・Tsubono construction Co.,LTD.
Location

Kushiro City

Route name
between Shin-Otanoshike and Shin-fuji,Neuro line,JR Hokkaido
Completion date
2008.
Overview

 The bridge is a composite structure consisting of prestressed concrete in the stiffener, reinforced concrete in the archrib, and steel in the vertical material, and it has one of the longest spans for a prestressed concrete Langer bridge for trains in Japan. It was the first fixed structure in Japan with such connections between the archrib, the stiffeners, and the vertical material, so FEM analysis and loading tests were conducted to confirm safety, along with the Charpy value confirmation test for the bending of steel in cold climates. In addition, self-filling high strength and high durability concrete was adopted in the archrib due to the potential for salt damage from the environment. The rise ratio was set to 1/5.8 in consideration of economy, walkability, and landscape factors.

This bridge was awarded the 2007 Japan Society of Civil Engineering Hokkaido Branch Technology Award, the 2008 Japan Prestressed Concrete Institute Award (product category), and the 2009 Japan Concrete Institute Product Award.