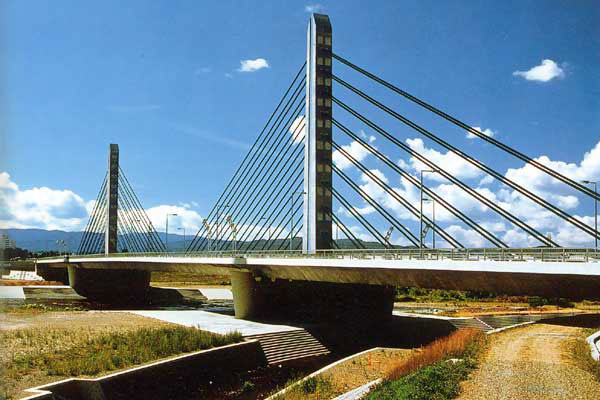 Structure name
Twin Harp Bridge
Structure type
PC 3-span continuous cable‐stayed bridge
Structural factors
Length of bridge 280.0m
Span length 69.4+140.0+69.4m
Client
Asahikawa Deparement of Public Works Management, Kamikawa General Subprefectura,lHokkaido Goverment
Designer
Docon Co.,Ltd.
Contractor
Joint-venture group Sumitomo Mitsui Construction Co.,Ltd・Kajima Co・DPS Bridge Works Co.,Ltd・Nippon High strength Concrete Co.,Ltd
Location

Asahikawa City

Route name
Nunber 1 line Kanjo , 3.3.11 City planning road.
Completion date
1991
Overview

This bridge is a cantilever PC box girder structure with independent single towers in consideration of the falling snow and surrounding landscape. The main girder is flexibly supported on the piers and the main tower is rigidly connected to the piers through an opening provided in the main girder. In addition, the inertial force at the time of earthquake is directly transmitted to the pier by a stopper. The construction featured improved work efficiency of the main girder during the overhanging construction method by devising a method to collectively tension a large number of strands using a large center hole jack with a capacity of 800tf.

This bridge was awarded the 1991 Prestressed Concrete Engineering Association Prize.