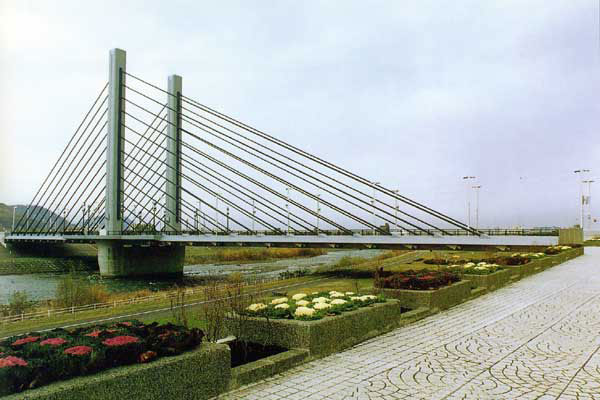 Structure name
Munich-ohashi Bridge
Structure type
PC 2-span continuous cable‐stayed bridge
Structural factors
Length of bridge 171.7m
Span length 106.9+63.2m
Client
Sapporo City
Designer
Docon Co.,Ltd.
Contractor
Joint-venture group Iwata Chizaki Co.,Ltd・Taisei Co・Sumitomo Mitsui Construction Co.,Ltd・Toda Co・Kumagai Gumi Co.,Ltd・Nippon High strength Concrete Co.,Ltd
Location

Sapporo City

Route name
Fukuzumi-Soen dori 3.4.15, City planning road.
Completion date
1991
Overview

The "Munich Bridge" was named to promote friendship between Sapporo and its sister city of Munich, Germany, and to serve as a representation of internationalization.

The features of this bridge are an asymmetrical two span continuous structure, and, unusually for a cable stayed bridge, rigidly connected independent pillars. The main girder was constructed by cantilever erection of both the left and right spans by the Wagen method. The main girder block shape is a rhombus with a skew angle to fit diagonal member anchor points within the same block, and it was constructed sequentially. Several tension adjustments were conducted on the way because the bending moment accumulated at the main tower due to the cantilever erection of left-right asymmetry span and the angle of skew, and the sectional force of main tower and deflection were adjusted. The main girder deflection control was conducted by the automatic deformation measurement system using laser measurements that can read in real time.