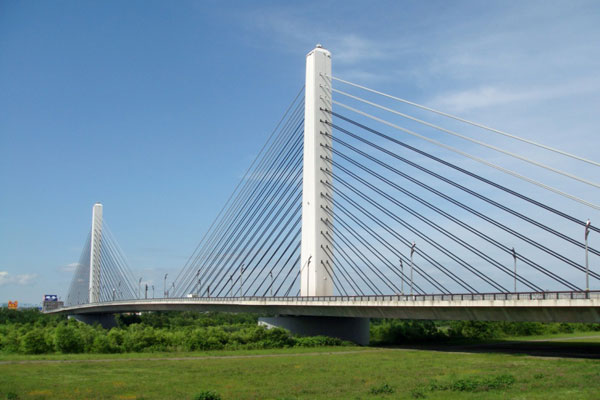 Structure name
Tokachi-ohashi Bridge
Structure type
PC 3-span continuous cable‐stayed bridge
Structural factors
Length of bridge 501.0m
Span length 124.1+251.0+124.1m
Client
Obihiro Development and Consutruction Dept.,Hokkaido Regional Development Bureau
Designer
Docon Co.,Ltd.
Contractor
(①)Joint-venture group Kajima Co・Nippon High strength Concrete Co.,Ltd・DPS Bridge Works Co.,Ltd.
(②)Joint-venture group Taisei Co・Sumitomo Mitsui Construction Co.,Ltd・ P.S. Mitsubishi Construction Co.,Ltd
Location

Otofuke town

Route name
Number 241 of national highway
Completion date
1995
Overview

 

This bridge, with a width of 32.8m, is the widest PC cable-stayed bridge in Japan. Despite its width, the main towers have only one pier and the four chamber box girders are cantilevered from the center cables to prevent the falling of snow and ice to the roadway during the winter.

The features of this bridge include:

Since the Tokachi area is an earthquake zone and the direction of the wind is often hits the bridge axis at a right angle, studies on the quake resistance and wind stability were conducted for the bridge to confirm the bridge safety. A large-scale model experiment for the cantilever structure was also carried out.
The main girder was constructed by the overhanging construction method, and construction was carried out through the whole year, including during the severe environmental conditions in the winter, by covering the whole moving construction vehicle with five frame cold protection curing equipment, as well as conducting cold weather measure such as strict temperature management during placing and curing. These measures were found to be successful for ensuring the high-precision construction and deflection management in an environment with high annual temperature differences.

In 1995, this bridge was the first in Hokkaido to be awarded the Tanaka Prize of the Japan Society of Civil Engineers.