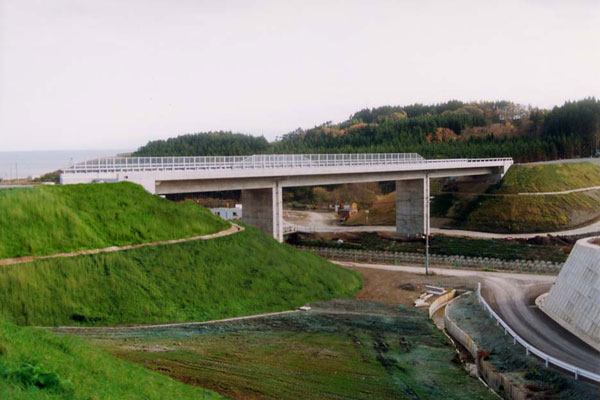 Structure name
Shirarikagawa Bridge
Structure type
PC 3-span continuous rigid frame box girder bridge(the all outside cable structure)
Structural factors
Bridge length 96.2m
Span length 25.8+42.7+24.0m
Client
East Nippon Expressway Company Limited.
Designer
DPS Bridge Works Co.,Ltd
Contractor
DPS Bridge Works Co.,Ltd
Location

Yakumo town

Route name
Hokkaido running through car road
Completion date
2001
Overview

 

This bridge features PC prepared with lightweight and high quality concrete in the superstructure, which was adopted for the entire outside cable structure.

The benefits of using high quality and lightweight concrete are:

・Compared with normal concrete, about 15% of the PC steel and 5% of the steel member could be reduced because the unit weight of concrete was reduced by about 18%.

・The number of cables could be reduced because of the decrease in PC steel material, and the constructability was improved because of the decrease in the number of times it was tensioned.

・Due to the independent air bubbles inside the aggregates, the frost resistance could be improved, and they also contributed to solving pumpability issues on-site due to blockage.

This bridge was awarded the 2002 Japan Society of Civil Engineering Hokkaido Branch Technology Award.