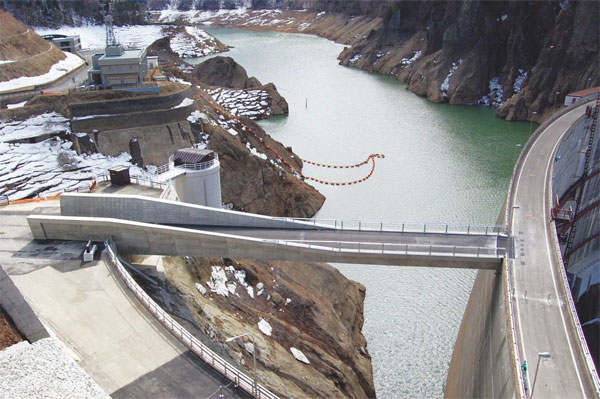 Structure name
Kamui・Nisei Bridge
Structure type
PC finback box girder bridge with cantilever span
Structural factors
Length of bridge 53.0m
Span length 43.0m
Client
Sapporo Development and Consutruction Dept.,Hokkaido Regional Development Bureau
Designer
Docon Co.,Ltd.
Contractor
Sumitomo Mitsui Construction Co.,Ltd
Location

Sapporo City.(Houheikyo DAM)

Completion date
2008.
Overview

This bridge, located at Hoheikyou Dam, is not only used for dam management, but also provides access for tourists who visit the dam. The PC finback box girder of this bridge is the first time it was applied in Japan. In order to not transmit any load to the dam structure, the bridge is a cantilever structure, so that all load is supported on the abutment side. To prevent deflection, the PC finback box girder was adopted to satisfy restrictions such the girder height relative to the water level of the lake and the bridge surface height.

Additionally, this bridge is one of the largest cantilevers in Japan, so it always receives eccentric load. While the supporting rock has extremely high strength to secure the long-term safety, permanent ground anchors were installed in the back to prepare for unexpected events, such as the weathering of rocks and powerful earthquakes.