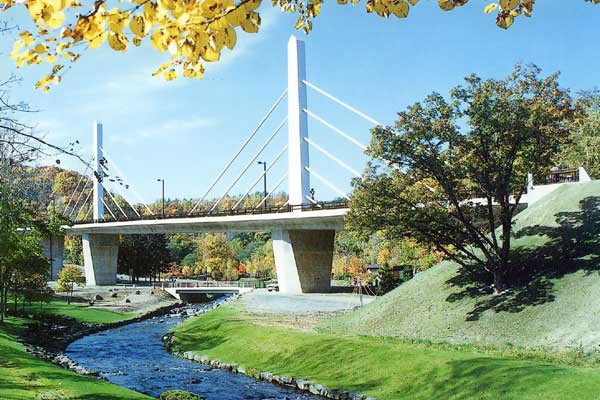 Structure name
Takino Park Bridge
Structure type
①PC 3-span continuous hinged cable-stayed bridge
②PC 3-span continuous box girder bridge
Structural factors
Length of bridge 245.0m
Span length  ①44.0+80.0+44.0m   ②3@25.0m
Client
Sapporo Development and Consutruction Dept.,Hokkaido Regional Development Bureau
Designer
Docon Co.,Ltd.
Contractor
①Joint-venture group Sumitomo Mitsui Construction Co.,Ltd・Oriental Shiraishi Co・Nishimatsu Constrtction Co.,Ltd.
②Nippon High strength Concrete Co.,Ltd
Location

Sapporo City(Takino national goverment park)

Completion date
1990
Overview

This bridge is a familiar sight as a symbol of the entrance to the Takino Suzuran Hillside National Park. The features of this bridge include a 50cm offset from the center of the main girder due to the single set of diagonal cables in the center, an intermediate web in the main girder to compensate for the eccentric and asymmetrical cross-section, and rigid connection of the main girder with the main tower and bridge pier in consideration of creep and drying effects, as well as the earthquake response characteristics of a structure with a hinge in the center span. The main girder was constructed using the overhang erection method including a moveable inner mold due to the low girder height of 1.5m, which is the shortest in Japan.

In addition, to take advantage of the benefits of the bridge in the park, the bridge's surface features free climbing slopes on the bridge pier and a space for swing ball under the girders. It is a popular location for recreation.