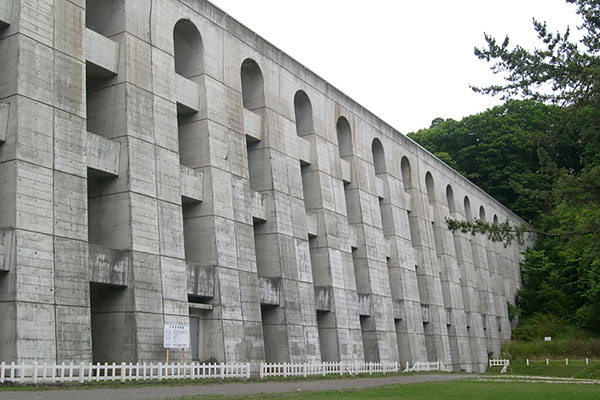 Structure name
Sasanagare DAM
Structure type
Buttress dam
Purpose
Water supply for city water
Structural factors
Height25.3m、Crest length199.3m、Volume36×10³m³、Ponding area7ha、Total reservoir capacity606×10³m³
Operator
Hakodate city
Designer
Motoki Ono
Contractor
Hakodate city
Location

Hakodate city

River system
Kameda River/Sasanagare River
Completion date
1923
Overview

The Sasanagare Dam, which is owned by the Hakodate Municipal Waterworks Bureau, began construction in 1921, and was finished in 1923. It is the oldest buttress concrete dam in Japan, with a bank height of 25.3 meters and a top bank length of 199.3 meters. A buttress concrete dam is a structure that supports a thin concrete wall, which supports the hydraulic load, with a buttress, or supporting wall. Ten dams of this type were built in Japan, but, as they were constructed during the period when cement was expensive, the structure is complex, and the foundation rock must be strong, this type is no longer being built.

              The dam is still performing its function well, even after almost 90 years of service. However, deterioration due to aging has appeared gradually and, in 1948 and 1949, repairs were carried out to remove weathered surface areas, and to spray new mortar. Furthermore, a fundamental renovation was carried out in 1983 and 1984 under the guidance of the Hakodate Municipal Waterworks Bureau and the Ministry of Construction's Public Works Research Institute. As the Sasanagare Dam's structural type is very rare and has historical value as a concrete structure in Hokkaido, the buttress structural type has been kept and repaired and reinforced over time. In 2001, the Japan Society of Civil Engineers designated the dam as a civil engineering heritage.