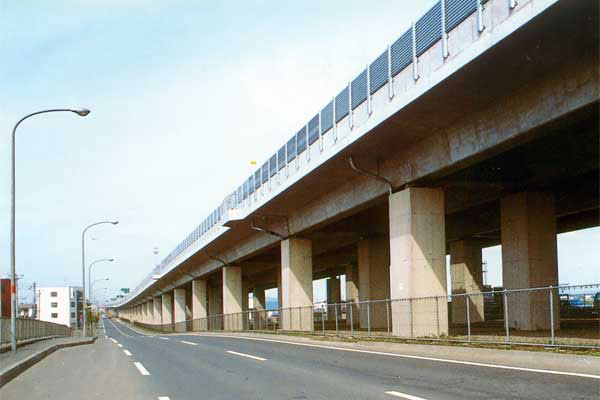 Structure name
Kitago Viaduct
Structure type
①PC 3-span continuous slab girder bridge
②PC 4-span continuous slab girder bridge
③PC 5-span continuous slab girder bridge
Structural factors
Length of bridge (Up line)526.0m、(Down line)535.5m
Span length ①(23.6+24.2+23.6)m、(18.5+19.2+18.5)m
   ②(23.7+2@24.2+23.7)m
   ③(22.5+3@23.0+22.5)m、(23.7+3@24.2+23.7)m
Client
East Nippon Expressway Company Limited.
Contractor
Joint-venture group P.S. Mitsubishi Construction Co.,Ltd ・Sumitomo Mitsui Construction Co.,Ltd
Location

Sapporo city

Route name
Hakodate-Nayoro line HOKKAIDO EXPRESSWAY
Completion date
1985
Overview

This bridge includes two structures, each consisting of a main slab and two solid web girders. The girder span and length of the flood slab overhang are long, resulting in a simple and slender cross sectional shape.

The construction process featured a moving scaffolding system in consideration of the limited space under the girders, as well as to assure traffic safety on Route 247 on both sides of the section. In addition, due to the bridge's length of 535m (with 45 spans), split construction was carried out for each span, and construction work was continued during the winter. During the winter construction, quality control was assured by maintaining a uniform temperature in the moving scaffolding shed through the use of four air heating machines (75,000 cal/unit) in tandem with spiral ducts for air distribution, such that a target curing temperature of 12ºC could be maintained to ensure a concrete compressive strength of 290 kg/cm2 at the time of prestressing.

This bridge received the Technology Award of the Japan Society of Civil Engineers Hokkaido Branch in 1986.